Buster (たいほくん) is a police/security guard Ham-Ham who appears in Hamtaro: Rainbow Rescue and some of the Japanese episodes.
Character description
In the anime series, Buster is usually seen chasing down an escaped "criminal", Ook-Ook. When the Ham-Hams first meet Buster, he tells them that if he doesn't arrest Ook-Ook, it will "mark the end of the world". The Ham-Hams take this seriously, and help him catch Ook-Ook. But after he is finally caught, Buster says that his desire to bring Ook-Ook to justice was just part of a game they were playing, and that they are good friends in reality.
Relationships
Notable Episodes
Gallery
Etymology
Etymology

Japanese

Taiho
(たいほ Taiho)
Taihō means "to arrest".

English

Buster
Chosen due to his policeman-like appearance, playing on "busting the crime"
Trivia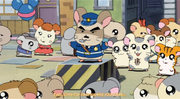 A hamster that looks a lot like him appears in Hamtaro: Adventures in Ham-Ham Land, albeit with a tiny mustache and a deeper voice. He is referred to as just "Police Ham" (ポリスハム) in promotional media.
Buster shares the same voice actress as the popular children's anime character Doraemon, and Mizuta even uses the same style of voice for both characters.