Hamtaro: Adventures in Ham-Ham Land

Movie №

1

Original airdate

December 15, 2001
Hamtaro: Adventures in Ham-Ham Land (とっとこハム太郎 ハムハムランド大冒険) is the 1st of the four Hamtaro movies.
It was never dubbed in English, despite the ratings of the show in the USA.
Plot Summary
After a wish from Hamtaro to be able to talk to his owner Laura Haruna, the Ham-Hams travel to Ham-Ham Land to search for a magical sunflower seed to make it happen. But, if they can't get the sunflower seed and return home in time, then they'll be stuck in Ham-Ham Land forever! And there's an evil wizard bent on stopping them!
DVD Menu Includes
Add the Gallery or info words while you brought the DVD.
Languages
Japanese
Mandarin Chinese
Cantonese
French (Unreleased)
Italian (shown on Hiro in 2010)
Arabic
Thai
Finnish
Korean
Subtitles
Gallery
Artwork
Screenshots
Trivia
Errors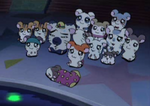 In one scene, Penelope's blanket and Panda's ears are incorrectly colored.