Mindy O'Hara (大原マキ, Ōhara Maki/Maki Ōhara) is the owner of sisters Lapis and Lazuli. She is from America. She lives with her grandfather and brother and has a pet bear cub, Kumajiro. She is good with animals and became friends with Laura and Kana.
Trivia
She first appeared in a short ending scene following I'm Parting, Clubhouse!, but her first official debut is in the episode Lapis and Lazuli.
Her official English name can be found by viewing her Friend Card in Ham-Ham Games, which can only be obtained by using a special cheat code.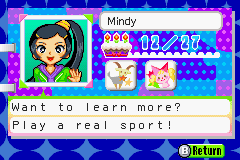 Gallery