Note: This character's name is derived from Japanese, as no official English name is known.
Skyham (そらハムくん), sometimes stylized as Sky-Ham, is a Ham-Ham who appears in some of the Japanese episodes. He lives in the Hamha Tree with Okini, Mystery, and Magical.
Character description
Skyham's dream is to cross the sky. When the Ham-Hams first met him, he could hardly get off the ground and ended up crashing, so they decided to help him out. Panda built him a hang-glider so he could fly (or rather, glide) and achieve his dream of crossing the sky. Skyham is very determined, and no matter how many times he crashes to the ground, he never gives up on his dream.
Skyham has been shown to be a little shy around other hamsters, though he is good friends with the Ham-Ham gang and the Hamha Tree residents. While he occasionally has arguments with Okini, especially when she insults his dream and shows little concern for him, they are still friends with each other. Skyham also had a crush on Pashmina, but it turned out she didn't feel the same way and only liked him as a friend.
Trivia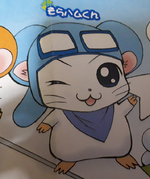 It is rumored that there is an early (or otherwise alternate) design of Skyham, originating from a magazine cut-out. This version of Skyham has all-white fur instead of blue, and a helmet with goggles on his head. However, its legitimacy has not been confirmed, and it may actually be some type of fan-art instead.
Gallery
Main article: Skyham/Gallery