This article is about the 2011 re-airing of Hamtaro. For the direct-to-video Hamtaro special, see Tottoko Hamutaro Anime Dechu!.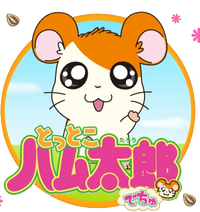 Tottoko Hamutaro Dechu (とっとこハム太郎でちゅ), also known as Tottoko Hamutaro 2012, is a re-air of Tottoko Hamutaro, or in English, Hamtaro, with various slight additions and alterations. The series premiered on TV Tokyo on April 2nd, 2011, and ended on March 30th, 2013.
Overview
The majority of the Tottoko Hamutaro Dechu! series was just re-airings of the original Hamtaro episodes. All of the episodes aired in Dechu are from pre-episode 194, with no Paradaichu!-era episodes ever airing. There are no known direct changes to their original contents; save for swapping the intro and credits sequences for new, 3D-animated ones, and adding a border around the screen (to fill the 16:9 aspect ratio).
While the majority of the series was just re-airings, two new episodes were created exclusively for Dechu - "Searching for Memories!" and "Panda Goes to Meet a Panda", both of which aired in April 2012. They used 3D CGI animation similar to the opening intro(s). They were accompanied by very bizarre live-action segments featuring people wearing hamster costumes.[1]
The Dechu series was seemingly aired exclusively in Japan, with no known release in any other region. As the series' content was largely identical to the original Hamtaro anime (which was still airing in several countries at the time), there was likely little reason to properly bring it overseas.
Special Segments
Before each episode starts, there is generally a special segment preceding it. The known segment types include:
Hamtaro Communication (とっとこむ通信) - Laura narrates over videos of real-life hamsters, with Hamtaro by her side. Appears before some episodes.
Who is it? - The viewer is supposed to guess which Ham-Ham is being shown by their silhouette. Appears in between commercial breaks.
Episodes
Series 1 (Dechu!)
Series 2 (2012)
Trivia
Broski appears in the third opening sequence, but is not present in any of the episodes aired. This was also the case for a few characters who appeared in some special segments (including Gelato).
The Dechu series caused a brief 2011 resurgence of Hamtaro merchandise, including items such as the "Kururin Change House" playset and the Hamtaro and Bijou "Tottoko Nakayoshi!" talking "chatter" plushes. This was short-lived, however, and Hamtaro products would enter another dormant state until late 2019.
Videos
Reference