Maxine (マキシン, Makishin-chan) is a brown and white tomboy field hamster. She usually keeps to herself.
Maxine loves to take naps and go on adventures. She is considered a therapist to others due to always comforting them when they are upset in any way.
Ships
Pairings I ship;
Pairings I'm neutral on;
Pairings I don't ship;
Hamtaro Character
Lily (リリー, Rirī-chan) is a beige hamster who is Boss's little sister and a field hamster.
She has a crush on Cappy, and would hide her face in her hood when she talks to him. He gave her the hood after he found it somewhere. She never takes it off. Lily is always excited and joyful, always trying to make the Ham-Hams laugh whenever they are feeling down.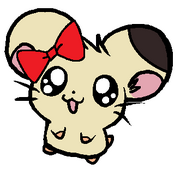 Community content is available under
CC-BY-SA
unless otherwise noted.