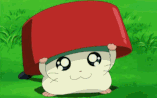 Hamha! I am just a random user on this wiki doing regular wiki things! I am quite active, so I can edit anything that needs to be edited! I think you get the idea... Bye-Q! :)
My favorite Ham-Hams!


Hamtaro - He's the star of the show, so he gets my love!
Bijou - Love those cute little ribbons! I ship Hamtaro and Bijou! (Sorry, Boss!)

Penelope - Ookwee! Penelope is SO adorable! But I kinda wish they'd show her without her blanket more often.
Sandy - Her tiger stripes are cute! I like that she's sort of a tomboy!
Howdy - I love this cute lil' jokester! And his Japanese voice is cute too! <3 Also Dexter and Howdy fighting is cute to me. Yeah, I dunno why!
Cappy - This little guy needed more screen time! He is a very underrated Ham-Ham!
Panda - Panda is also underrated! But he got a decent amount of screen time.
Snoozer - He sleeps. And talks. He's pretty smart if you think about it...

Jingle - I don't understand why they considered him part of the main group, but he's pretty cool. (And he messes up Hamtaro's name! Haha! Well, except this episode... :)
PS. Yes, I know I have a LOT of gifs on here, but my GOSH THEY'RE SO ADORABLE! :3
Ships
Pairs I Ship
Hamtaro and Bijou Hamijou fan here. :d
Sandy and Maxwell We all know this one. They're just so cute together....
Oxnard and Pepper Same as Sandy and Maxwell. Also THEY GOT MARRIED.
Laura and Travis If you don't ship this, then what is wrong with you. :I
Barrette and Seamore If you have ever played Ham-Ham Heartbreak or watched episode 186 of the anime, you'll understand why they're so cute together. :3
Pairs I'm neutral with
Stan and Flora Okay, Stan trying to get Flora's love was pretty funny ngl, but a type of hamster like Flora just doesn't suit Stan's rambunctious personality, but that doesn't mean I hate the ship.
Hamtaro and Sparkle Sparkle is a little bit pushy, and she doesn't suit Hamtaro, but I don't hate the ship.
Pairs I don't ship
Spat and Harmony Why is this even a thing.
Panda and Bijou So, let me explain this. In Tottoko Yoroshiku! Hamuchans, a Japanese Hamtaro album, in one song, Panda states that he is trying to win Bijou's heart by building something for her, but he says that there are too many rivals, so this crush died out early on. Why do I not ship it? Well, we never even see this crush in the anime, and besides, I'm a Hamijou girl.
Hamtaro and Penelope Same as Panda and Bijou, in Tottoko Yoroshiku! Hamuchans, Penelope states that she longs for Hamtaro. I don't ship this because Penelope is really too young for love.
Hamtaro and Lapis It was a THANK YOU KISS.
Glitter and Travis Glitter is a spoiled brat who doesn't deserve Travis.